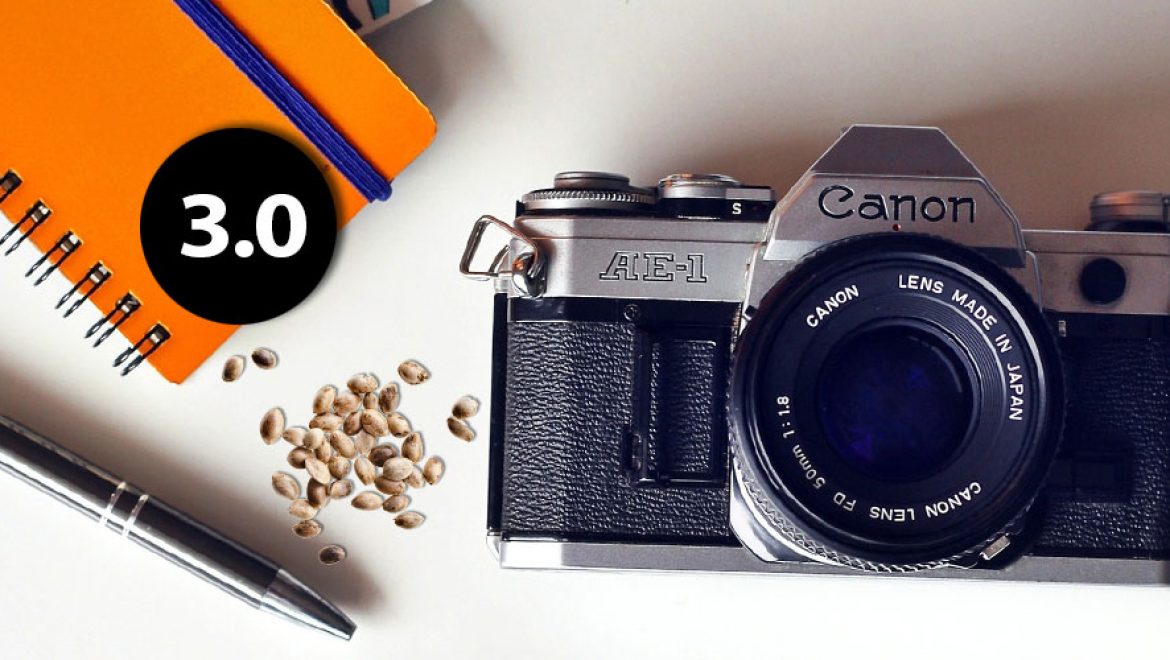 Welcome to the third part of our comparative test of CBD cannabis seeds. Our plants are about 6 weeks old at this moment, in this article you can read how our plants have been doing in the fourth to the sixth week of their existence.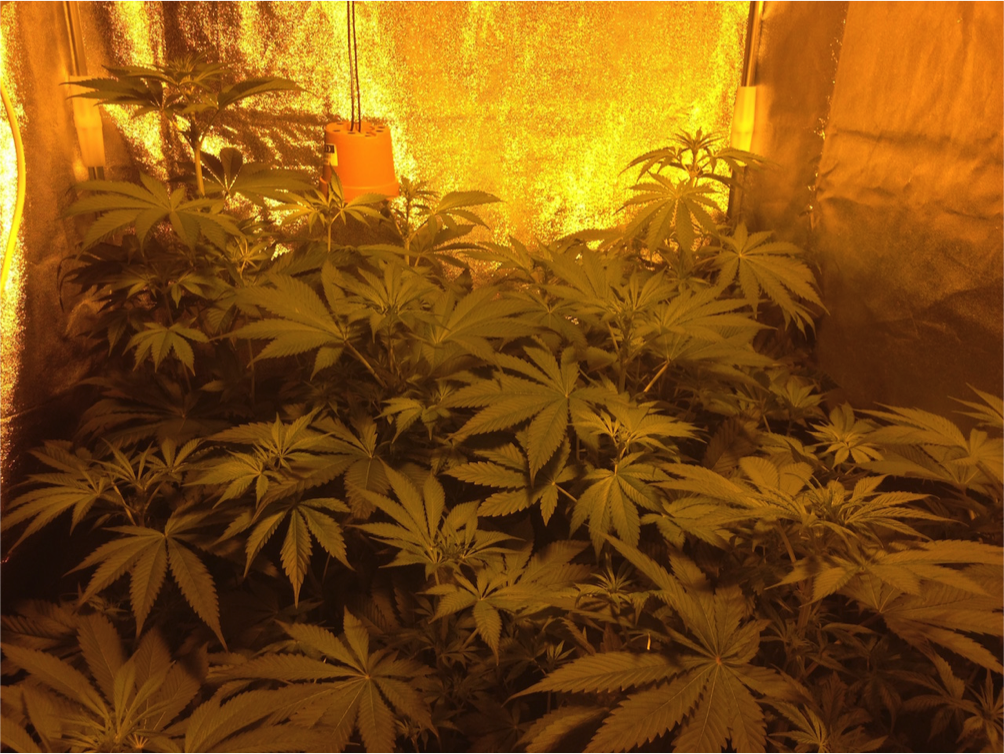 As you can see, our plants really have grown quiet a bit over the past 2 weeks. The previous time we have connected our Autopot system and as you can see that the plants are loving it. The canopy in our garden is now completely starting to close. You can see that our plants have grown tremendously over the past few weeks.
We are starting to see the first differences in genetics, some plants are much larger than the others. In both the Moby Dick CBD, the CBD Kush and the bubblegun we have plants which are larger and plants that are smaller. To clarify things a bit we have measured the height of our plants. We measured the height of our plants starting at the top of our pots.
| | | |
| --- | --- | --- |
| Moby Dick CBD Dinafem | CBD Kush Dutch Passion | Bubblegun |
| 82 cm | 71 cm | 90 cm |
| 84 cm | 82 cm | 113 cm |
| 101 cm | 89 cm | |
| 103 cm | 104 cm | |
| | 107 cm | |
| | 119 cm | |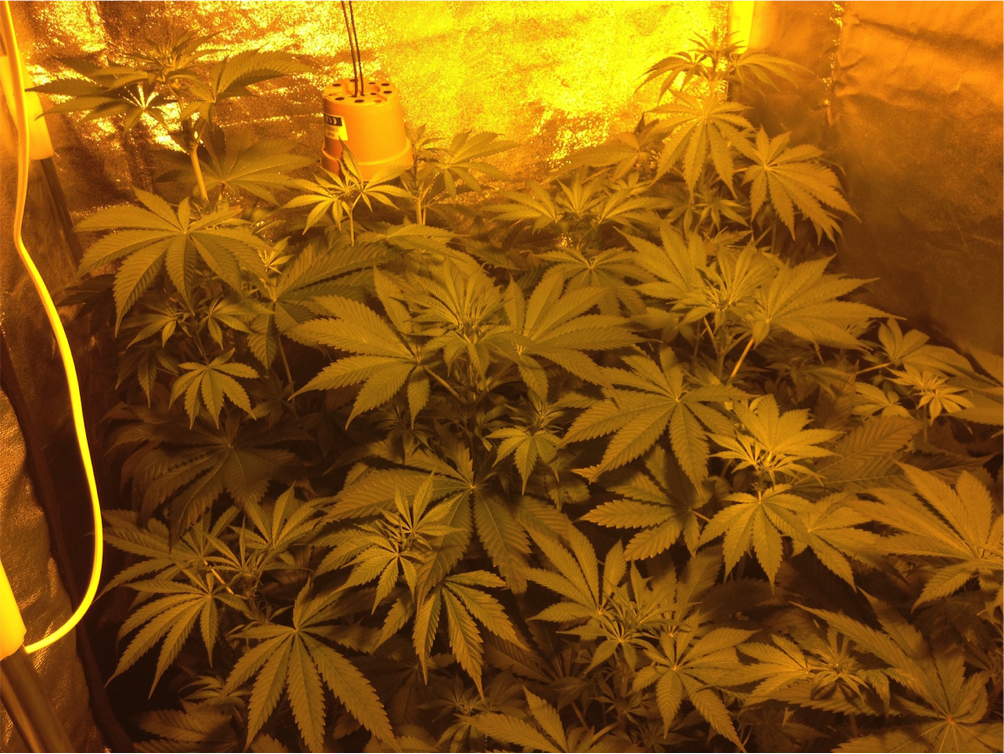 The plants that you can see in the top left corner and upper right corner are our outliers. In the top left corner is a CBD Kush in the upper right corner you there is a Bubblegun plant. You can tell by the looks of the seedlings that those plants were already a bit larger than the others, so we have placed them in the corners of our tent. We did this to avoid problems in a later stage. The rule of thumb is that the smaller plants are placed right under the lamp in the center and the larger ones are placed on the outside borders. In that way you avoid that the biggest plants get too close to the lightbulb and possibly develop heat problems.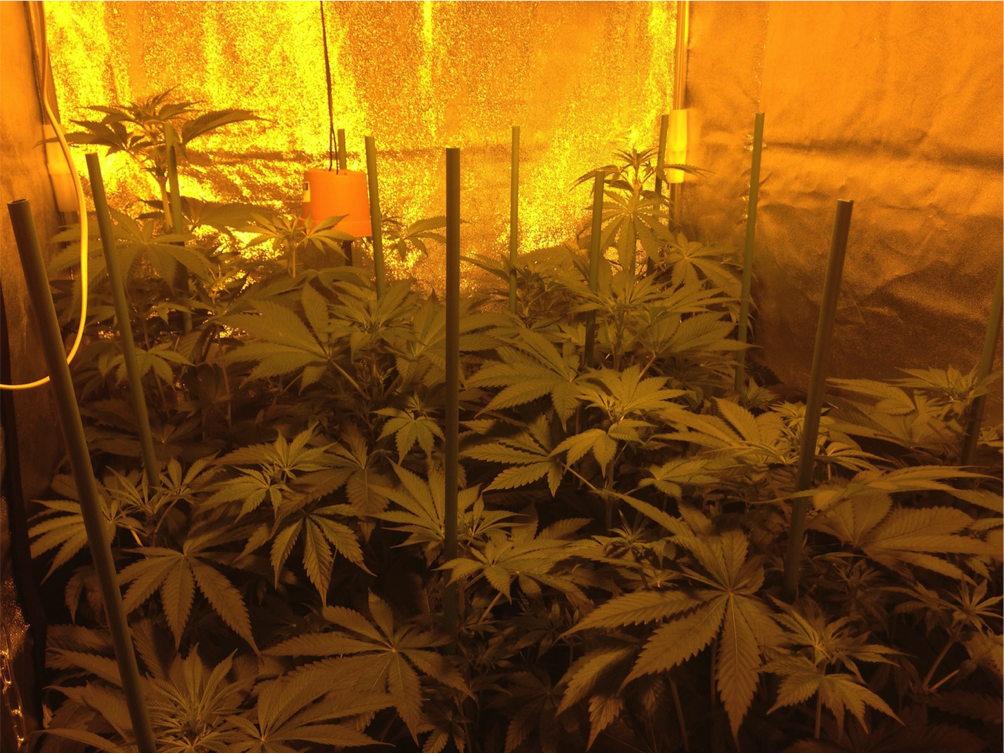 We also provided some support for our plants and in this way we also have some support points to tie up our plants later. As you can see we do not work with a netting to support our plants but we choose poles to support our plants. If needed later we will supplement this with yo-yos and tying.
We also have pruned our plants again at the bottom, just like last time we removed the bottom two side branches and leaves of our plants. Up to a height of 30 cm, our plant is completely bare and there's just a stem. In this way, the air circulation between our plants is optimal. This is very important later on in the blooming period. We now altogether have removed the lower four rows of side branches and leaves of our plants.
Our plants are starting to show the first signs of flowering, the first white hairs are visible. It is now three weeks since we have reduced our light from 18 hours to 12 hours and we can now say that our plants are in bloom. The growth of our plants will stagnate now and our plants will concentrate on making flowers instead of growing.
Our lamp is now burning at its full potential, in our case this is 1000 watts.
The flower pot you see hanging on the photograph is housing the temperature sensor of our lamp and our climate controller, it serves to shield them from direct light from our lamp. As you can see this is hanging at the same level as the height of our plants.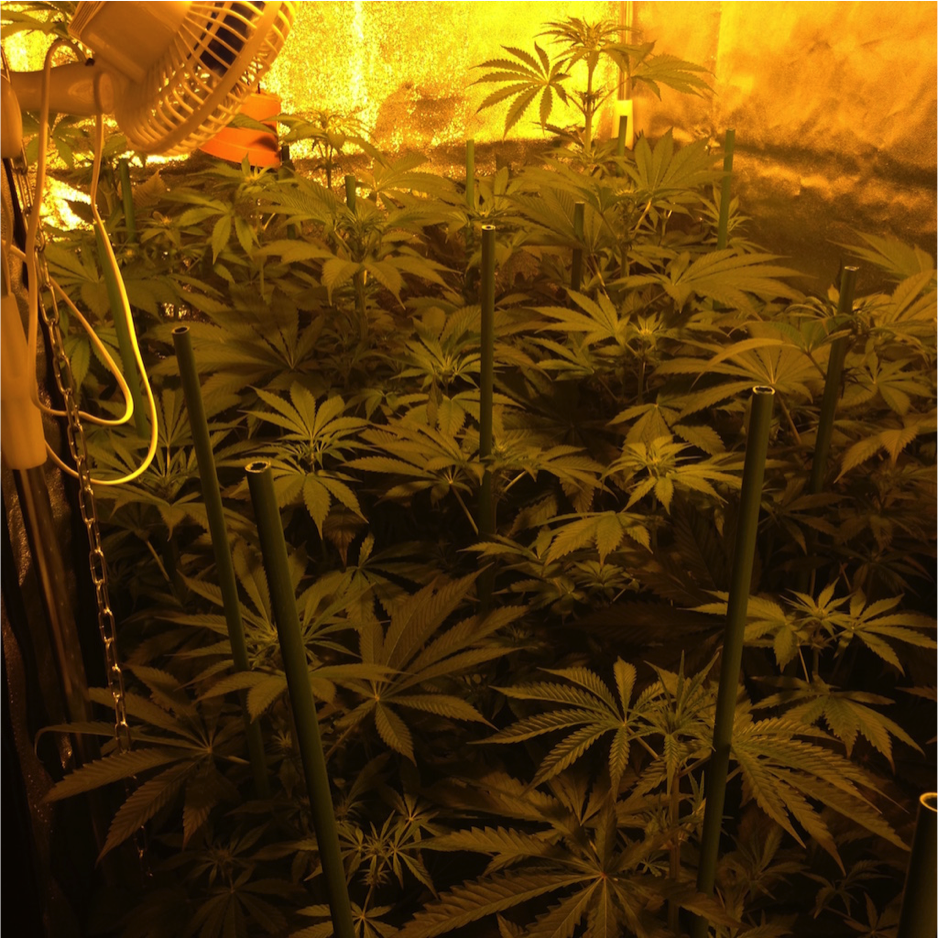 This week, our plants are residing 5 weeks in their large pots. We fed our soil as described in the Biotabs growing manual. We have added beneficial soil bacteria (Bactrex) and nutrients for them (orgatrex) to water and we watered our plants manually with this solution. For the rest our plants get just the water they require, the only thing that we need to do is top our Autopot system occasionally up with water. Our garden is thriving nicely, we promise to keep you updated on how our CBD plants are doing.
More Grow Reports: Part 1, Part 2, Part 3, Part 4, Part 5, Part 6, Part 7
Bewaren
Bewaren
Bewaren
Bewaren
Bewaren